How to Avoid a Heart Attack When Shoveling Snow: Tips, Risks, and Statistics
Disclaimer: This informational article was not written by a medical professional and is not a suitable replacement for professional medical treatment or diagnosis.
Always consult your doctor about any health concerns and in the event of a medical emergency, call 911.
Quick Navigation:
Shoveling snow is hard work. There's no doubt about it. In fact, you've probably heard the regrettable news story that seems to come out every year that some unfortunate soul in your area passed away while trying to clear their driveway – usually cardiac arrest. But when you sit down and look at the statistics, the act of shoveling snow is even more dangerous than you might have thought, and when you consider the root causes, it's not that surprising.
But you don't have to live your winter in fear. And though we'll always recommend a snow plow for all your driveway clearing needs – it is possible to shovel your way to freedom without running the risk of heart attack.
The Statistics
Every year, about 100 Americans die shoveling snow, and more than 1,500 are hospitalized due to cardiac episodes that began while shoveling snow. For Canadians, these numbers are even higher. The reason for this goes well beyond the fact that shoveling snow is hard work, which it is. In fact, shoveling snow raises the heart rate and blood pressure of athletes almost double that of a treadmill.
You're also out in the cold weather and thus less likely to go cool down from over-heating, even when your body is desperately in need of a break. Additionally, the cold air running in and out of your lungs constricts your arteries, and decreases your body's blood supply - making your heart work even harder. Combine all of this with the fact that our circadian rhythms make us more prone to heart attack between 6AM and 10AM (when most snow shoveling is done), and you've got a potentially deadly combination on your hands.
Those Most at Risk
Anyone out shoveling snow should be careful, take precautions, and be aware of their limits. However, the statistics are very clear on which attributes increase someone's risk of shoveling-related cardiac arrest.
Those who are overweight based on their Body Mass Index (BMI)
Those who have suffered a prior heart attack, or have been diagnosed with heart
Those with high blood pressure
Those over the age of 55
Those who lead a sedentary lifestyle - if the last major workout you got was shoveling snow last winter, this should be a red flag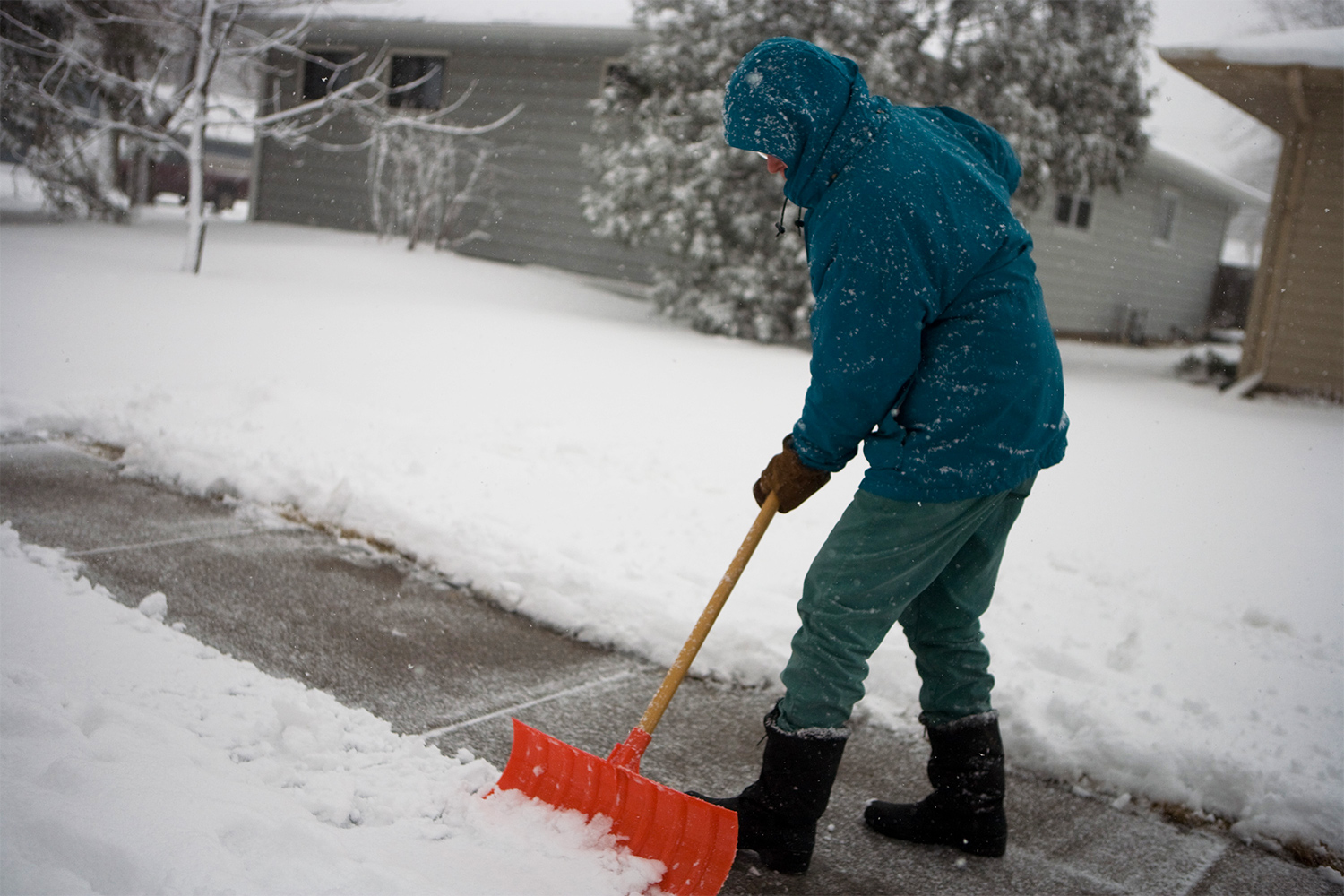 If you meet one or more of these criteria, you may want to take extra precautions before heading out with the shovel this year. The more of these criteria you meet, the greater your personal risk. Think about your friends, neighbors and relatives as well. If you are in good shape and are able to help others clear their driveway, consider lending a hand – just don't spread yourself too thin.
Safety Tips
If you've determined that you are healthy enough to shovel snow, it's still important to keep in mind the following guidelines to ensure your shoveling experience is as healthy as possible. And if you have any doubt whether or not you're healthy enough to shovel your driveway, don't hesitate to ask your doctor.
Breathe deep – some people hold their breath with each strain which is terrible on the cardio-vascular system
Cover your head and neck as this is where most of your body heat escapes
Cover your mouth – cold air coming into your lungs can wreak havoc on your arteries
Dress in layers – it's very important to stay warm, but it's just as important to undo a few buttons when you start to feel too warm. Cold as it is, overheating is a still a very real possibility.
Don't shovel immediately when you wake up – allow your body time to become fully awake and alert
Before heading outside, warm up with some light cardio exercise such as marching in place for five minutes
Work slow and take frequent fifteen minute breaks – this is not a race, take your time
Use a small shovel – yes, a bigger shovel can move more snow at a time, but it's also more taxing on your body
Push snow rather than lift it – the results are the same and the exertion is far less
Avoid eating, smoking, coffee, and alcohol beforehand – all of these things can divert your blood flow
Drink plenty of water to stay hydrated – have a few sips during each break even if you don't feel thirsty
Of course, the best way to avoid a health issue is to avoid shoveling altogether. If you have a pickup truck, like the Ford Ranger or Toyota Tundra, a snow plow can do all the hard work for you while you sit comfortably in the warmth of your vehicle.
Warning signs
The following are some signs that you may need to stop, take a break, or seek medical attention.
Chest pressure, squeezing, or pain
Pain in the arms, back, or neck
Light-headedness or dizziness
Nausea or vomiting
Heart racing or shortness of breath
Head indoors if you get concerned, and if necessary call 911.
How Long After Shoveling am I Still at Risk?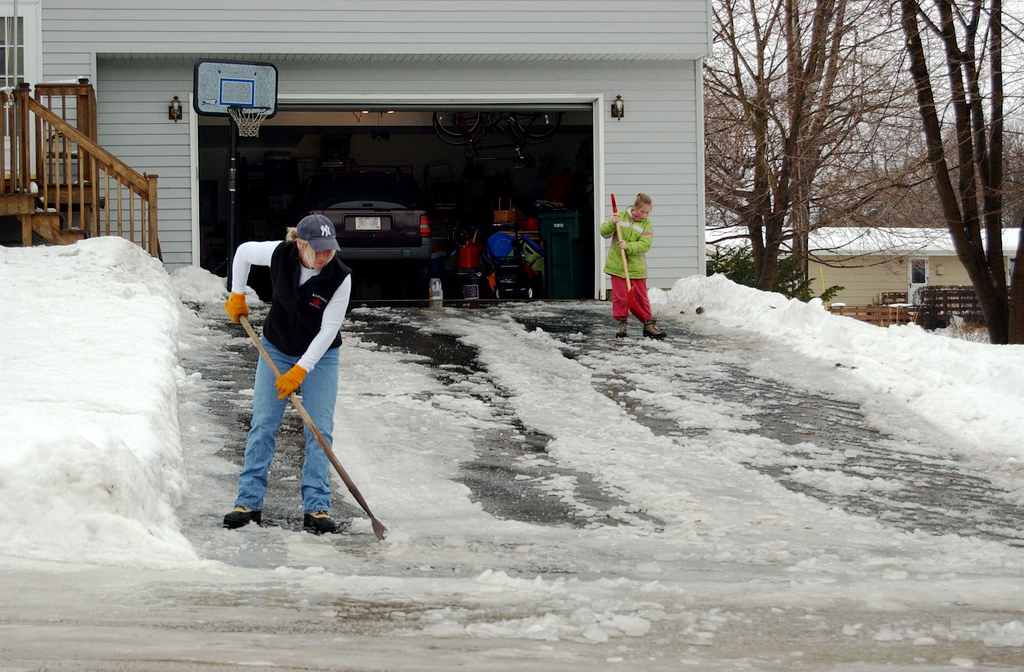 Heightened physical activity in the morning can raise your risk of heart attack for the rest of the day. But as a general rule of thumb your body should return to a comfortable resting state within three to five minutes. If you're still experiencing any of the above symptoms beyond a normal level after a five minute rest, it's time to seek medical attention.
The Good News
The good news is, while cardiac arrest is the most serious injury you could sustain while you shovel snow, it's still considered rare, and perfectly preventable. We hope this guide has allowed you to determine whether or not you can shovel snow, and how best to do it if you so choose. If you have any questions about Plan B (a snow plow like the Meyer Home Plow), feel free to give us a call at 855-386-6896 or check out our list of the best plows.
Disclaimer: This informational article was not written by a medical professional and is not a suitable replacement for professional medical treatment or diagnosis.
Always consult your doctor about any health concerns and in the event of a medical emergency, call 911.