The Definitive Snow Plow Buying Guide
When the snow starts falling, it's easy to feel trapped. Even if your city does a bang-up job of plowing the main roads – nobody is coming to plow your driveway without asking for a hefty fee. Shoveling your driveway is not only time consuming and exhausting, but that over-exertion can be potentially dangerous.
So what other options does that leave for those of us that need to get out, but want to save precious time and money? Chances are if you're reading this, you've already had your "Eureka!" moment and have decided to find a snow plow for your rig. Now you may think you've arrived at the hard part – figuring out which snow plow is perfect for your truck, car, or SUV.
The good news is, finding a compatible snow plow doesn't need to be difficult – especially not with Snow Plows Direct on your side. We have knowledgeable product specialists available every day via phone or live chat – and the handy research guide seen below will answer many of our customers' Frequently Asked Questions.
Things to Consider Before Ordering
What kind of plowing you'll be doing, and how will that affect your budget? Do you just need to plow your own driveway, and maybe one or two of the neighbors? If this is the case a light-duty personal snow plow should handle your needs. These range in price from around $500 to $2,000, and usually are easily removable for the summer months. If you plan to plow a full neighborhood or a large parking complex, a commercial grade plow may be better suited for your needs. These typically run around $5,000 and above.
Available materials. The common materials used to construct snow plows are Aluminum, Steel, and Poly. Each material has it's own strengths and weaknesses. Poly is the most slick, as a result snow will virtually never stick to it. But despite a common misconception, it is actually heavier than steel. This is because it usually requires a reinforced metal frame to hold it together. Therefore Steel is lighter and stronger, but more likely to accrue scratches and dents. Aluminum is lighter still, which is great if you need to drive a great distance with your plow installed, but can be even more susceptible to surface scratches over time.
Ease of installation/removal. When shopping for your plow, consider whether the system includes everything needed for installation, or requires additional accessories such as a front or rear mounting hitch. Additionally, will you have one vehicle as a dedicated plow vehicle? Or will you be frequently installing and removing your plow? If you plan on the latter, a plow with pre-installed casters can be great for removing and storing in your garage.
Remotes, controls, and lighting. Whether you're plowing at night, in active snowfall, or both, your visibility is likely to be greatly reduced. You'll notice many plow systems include additional lights – consider whether this will be an essential addition to your set-up. Moreover, consider what type of operation system you'd like. Some plows are fully operational from the comforts of your cab with the use of a wired or wireless remote control. Conversely, some plows have to be manually lifted, lowered, and angled.
Personal vs. Professional Plows. There will always be two types of plows on the market, and two types of plowers. A personal plow is best suited for personal use - that is, you plan on plowing your own driveway, or possibly the small parking lot of a small business. These plows are usually designed to be lightweight, and easy to remove. Professional snow plows are better suited to people who plan on doing some serious planning - like an entire neighborhood or a large parking lot.
What type of vehicle will you use? Knowing what truck, car, SUV, or ATV you plan to use is crucial to finding the perfect snow plow. Every vehicle has a Front Gross Axel Weight Rating which is a determination of it how much your front axle is capable of holding. You definitely don't want to exceed this. Luckily at SPD, we allow you to key in your year, make, and model, and we won't let you order a plow that's too heavy for it. To learn more about what type of plow will be a great match for your vehicle, check out the sections below.
One of the number one questions we get, is whether a customer's vehicle is even capable of plowing. Obviously some vehicles are more suited than others, but rest assured if it has four wheels and an engine you can put a plow on it!
Half-Ton Truck Snow Plows
One of the most popular vehicle types we find our customers shopping for are half-ton trucks. These burly rigs can definitely get the job done, but you'd be surprised how often we're asked "Can I plow with a Ford F150? Absolutely! In fact, for personal use a Meyer Home Plow is an ideal F150 snow plow.
This durable steel product from Meyer comes in three basic models and also makes a perfect Toyota Tundra plow. Since the ease-of-installation allows you to install any model of Home Plow onto any 2" front receiver hitch, the fully automated design works with any half ton truck.
Your half-ton truck is also capable of going beyond the cul-de-sac when you outfit it with a professional grade snow plow. If you have a parking lot to clear or plan on starting a new winter weather business, the Curtis Sno Pro Home Pro 3000 could be the perfect Chevy Colorado plow.
An innovative hitch-and-run system makes this professional-grade plow easy to attach and remove for storage. So if you just have one truck to use, summer or winter, this could be the perfect solution to for a heavy-duty Nissan Frontier, or for a similar quarter-ton truck.
Three Quarter-Ton Truck Snow Plows
A snow plow for a Ford F250 or the like is another beast entirely. A three-quarter ton truck like this can slice through snow and ice like butter. A hearty plow like the Firstrax Premium will be right at home on any ¾ ton truck, which makes it a perfect snow plow for a Dodge Ram 2500 and many more.
The three available sizes of this personal-use plow make it easy to customize for your specific needs. Wide at every length, the 80 to 90 inch blade can cut through winter weather in broad strokes, making the job even faster and easier than expected. Plus, the fully hydraulic lifting, lowering, and angle makes this plow easy to operate from the comfort of your cab.
Better yet, your F250, 2500, or even F350 and 3500 trucks can really handle professional snow plows like, well, pros! The Sno Pro 3000 from Curtis will really get the job done on the helm of your large truck. This commercial-grade plow is constructed in industrial-grade steel and an includes a hydraulic jack stand that keeps the blade at the ideal angle for attachment and removal.
Snow Plows for Your SUV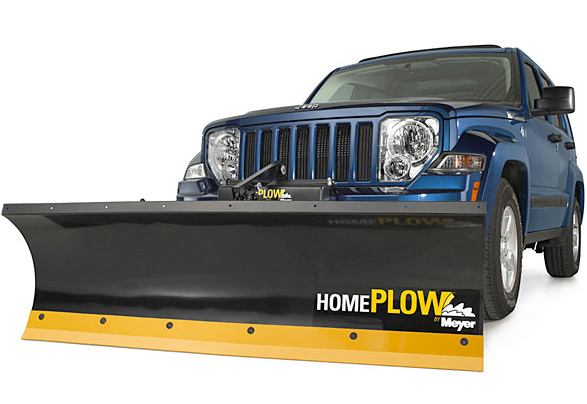 For our SUV drivers, if you're looking for a Ford Explorer plow to free yourself from your driveway, or hope to make some extra money this winter with your Toyota 4Runner, a snow plow is your surefire way to make it happen. When you drive an SUV, you have plenty of options for your front-end, for example the DK2 system makes a perfect Honda Pilot Snow plow, likewise for any similarly sized SUV.
The DK2 comes in your choice of three different styles - one for each of the types of plowing you may find yourself doing. The Rampage II is perfect for use around your home or farm, while the Storm II is reserved for bigger jobs - like when you want to clear your entire block. Finally the Summit II is getting closer to a commercial plow, allowing you to sweep entire parking lots. Each model includes a wireless remote and casters.
But if you plan to be driving all over town plowing for friends, family, and customers, a commercial snow plow may be more your speed. Professional snow plows like the Drive Pro from Myer bring you a professional-grade plow that's suitable for your consumer-grade SUV. Plus, the Drive Pro features a fully hydraulic system and comes coated in Dura-Slick, allowing it to slice through ice and snow like a knife through paper.
Snow Plows for Your Car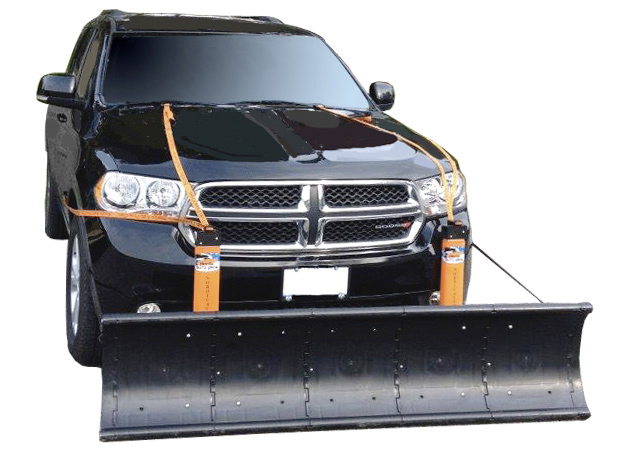 We often hear customers ask, "Can I plow my driveway with a car? And the answer of course, is yes. Like we said above, if a vehicle has four wheels on it, it can plow your driveway. After all, that's four more wheels than you and your shovel have - unless you plan to go out in your roller-skates, which we don't recommend.
What we do recommend, is outfitting your sedan, hatchback, or station wagon with a Nordic Auto Plow. This plow was specifically designed to work on pretty much any automobile, as long as you have a sturdy bumper to place it on. This plow has no motor, hydraulic, or other moving parts - so there's no maintenance costs, and nothing that will break down over time.
It weighs only 52 pounds, so even a Ford Pinto, AMC Pacer, or Geo Metro could handle this bad boy just fine. Your Nordic Auto Snow Plow is also made in the USA, and it actually costs less than most snow blowers, while being much more effective.
ATV, UTV, and Even Riding Lawn Mower Snow Plows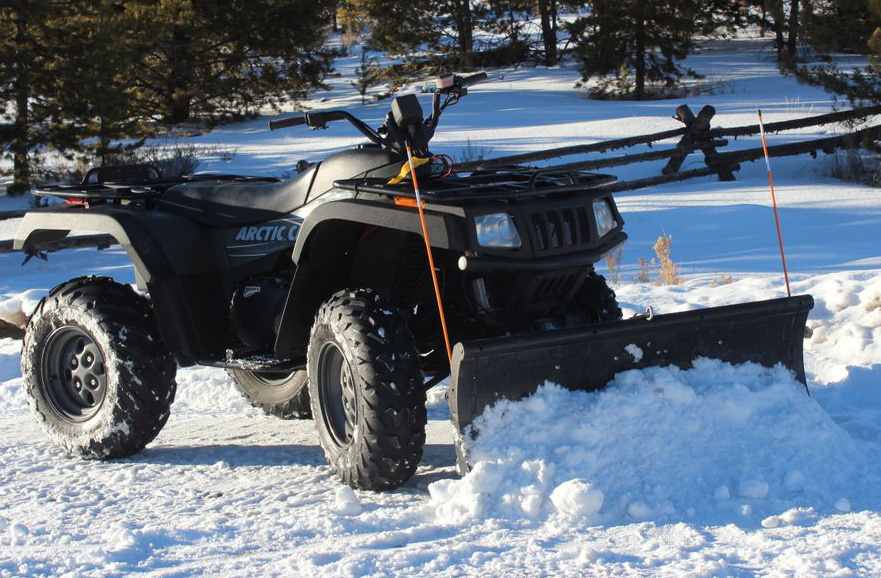 A lot of people's ATVs, UTVs, and Riding Lawnmowers sit and collect dust all winter long. We can see why, there's no need to cut the grass and it's not really four-wheeler season, but what some people don't realize is that their motorized tools and toys can also be powerful snow clearers. Just take a look at the ATV Snow Plow from SnowSport. This Aluminum plow is light enough for your four-wheeler to handle and installs on any 1.5" reciever hitch. So bundle up and hop on the Honda or Yamaha, because this blade will turn an hour of shoveling into ten minutes.
And if you have a Toro Workman, John Deere Gator, or another powerful golf cart at your disposal, there's no reason not to have the UTV Snow Plow from Nordic on hand. This plow features a rounded edge that won't tear up your grass. Plus, it's useful year round for pushing water off of tarps, clearing aerated plugs, and more.
Yes, even your riding lawn mower can cut through snow as quickly as it cuts through grass. All you need for fast and efficient snow removal is the Nordic Riding Mower Snow Plow. The durable but lightweight rubber composite material of this blade won't weight your mower down as it pushes all the snow and slush before it. Plus, it's made right here in the USA and comes backed by a 1-Year Warranty.
Any Questions?
We hope this guide has been informative and was able to point you in the right direction. Still have questions? Our snow plow experts are in every day and available by phone or live chat to answer them. Give us a call at 855-386-6896 to learn more, for help placing an order. And be sure to check out our list of the best snow plows.